A large-scale standing panel of U.S. households, delivering rapid, accurate, and cost-effective surveys.
The AmeriSpeak Panel gives NORC's clients a breakthrough option for conducting statistical surveys of the U.S. population. We offer speed, cost-effectiveness, and the reliability that comes with enhanced representativeness of the public.
How It Works
AmeriSpeak employs a variety of methods, including in-person outreach, to recruit difficult-to-reach groups. Young adults, the less educated, rural residents, and low-income households have long been a challenge for surveys. Our approach overcomes those obstacles, with an industry-leading response rate

The result: impressively accurate surveys, backed up by an innovative sample-quality report card. Our experts work closely with clients to incorporate questions into our ongoing surveys or customize research for them alone. 
AmeriSpeak has built a strong reputation among commercial and nonprofit clients, and its panel is also emerging as a powerful tool for federally funded research. For example, the quick-turnaround capability of AmeriSpeak helped the Centers for Disease Control and Prevention track teen mental health during the pandemic. And the maintenance of our panel makes AmeriSpeak equally effective at federal longitudinal surveys. In addition, AmeriSpeak's commitment to reflecting the views and behaviors of under-represented groups makes it ideal for identifying racial and ethnic disparities, an important governmental concern.
Contact Us
Are you interested in conducting research with AmeriSpeak, or want to learn more about our panel? Please contact:
AmeriSpeak-BD@norc.org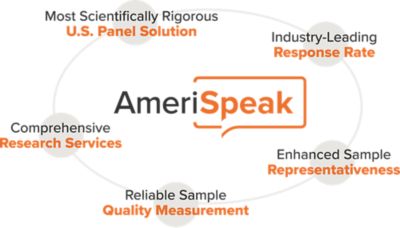 Powered by AmeriSpeak's Panel
A representative sample of U.S. households is recruited and ready to answer clients' crucial questions. NORC services powered by the AmeriSpeak Panel include: