Half as Many Households Plan to Trick-or-Treat This Halloween
Press Release
Far fewer U.S. households will engage in typical Halloween activities as COVID-19 precautions are prioritized.
CHICAGO, Oct. 28, 2020 — Halloween social activities like trick-or-treating or attending parties will take a backseat this year, as more U.S. households prioritize COVID-19 social distancing recommendations, according to a new survey.
Just 12 percent of U.S. households will go trick-or-treating this year, compared to 24 percent who went door-to-door last year. While one in four families (25 percent) still plan to give out candy, this is down significantly from last year (38 percent). The survey findings come from a new Spotlight on Education survey from NORC at the University of Chicago, conducted using AmeriSpeak's probability-based panel.
Overall, there is a 32 percent increase in people who will not celebrate Halloween compared to 2019. Those who will celebrate plan to carve pumpkins and watch scary movies. Just fifteen percent of people plan to attend a party, down 37 percent from last year.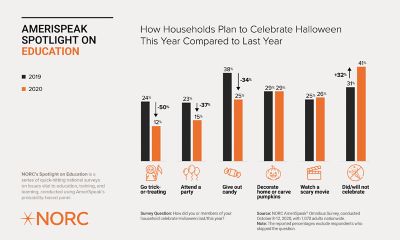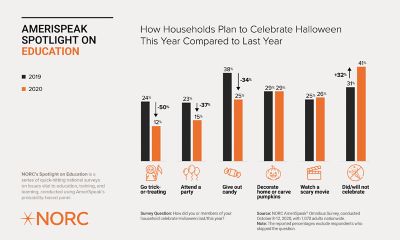 "In many places, Halloween is a community event that brings together friends, family, schools, and neighbors," said Shazia Miller, senior vice president of NORC's Education and Child Development department. "Like many things in 2020, COVID-19 will disrupt this cultural celebration and represents another loss of community during the pandemic."
With Many Schools Operating Remotely, Fewer School-Age Children Have Plans to Celebrate
As schools around the country shift to remote learning due to COVID-19, fewer children have plans for a school-based celebration. In 2020, more than a third (36 percent) of parents of school-age children say their children will not celebrate Halloween at school, which is down from roughly a quarter (27 percent) who said the same in 2019. Fourteen percent of parents say their children will attend a virtual, web-based Halloween celebration with school.
"Halloween has long been a highlight of the school year for children, and it is a way that schools engage and build ties with parents. Schools create community. The loss of a costume parade or a classroom party with spooky snacks is one more sign of the sad reality that 2020 has brought," said Jennifer Hamilton, NORC's vice president of Education and Child Development. "Missing out on Halloween festivities is a reminder of the role that schools play in our kids' rituals and traditions and the disruption that COVID-19 continues to have in the United States."
More than 2 in 5 parents (41 percent) say their children are disappointed or angry about the change in Halloween plans this year.
"In many places, Halloween is a community event that brings together friends, family, schools, and neighbors."
Methodology
The self-funded poll was conducted between October 8 and October 12, 2020, during a monthly Omnibus survey. It included 1,070 interviews with a nationally representative sample (margin of error +/- 4.15 percent) of adult Americans age 18+ using the AmeriSpeak® Panel. AmeriSpeak is NORC's probability-based panel designed to be representative of the U.S. household population. A comprehensive listing of all study questions, tabulations of top-level results for each question.
About the Spotlight on Education
NORC's Spotlight on Education is a series of quick-hitting national surveys on issues vital to education and child development, conducted using AmeriSpeak's probability-based panel.
About NORC at the University of Chicago
NORC at the University of Chicago conducts research and analysis that decision-makers trust. As a nonpartisan research organization and a pioneer in measuring and understanding the world, we have studied almost every aspect of the human experience and every major news event for more than eight decades. Today, we partner with government, corporate, and nonprofit clients around the world to provide the objectivity and expertise necessary to inform the critical decisions facing society.
Contact: For more information, please contact Eric Young at NORC at young-eric@norc.org or (703) 217-6814 (cell).
Departments, Centers & Programs
Solutions