Despite Concerns about Being Out of Work, Americans Increase Spending to Stockpile Goods
Press Release
Half of working adults surveyed say they are concerned about employment disruptions due to COVID-19.
CHICAGO, Mar. 24, 2020 — As more people become aware of the COVID-19 virus and increasingly take steps to limit their exposure to it, fears among the American public about losing their jobs are beginning to take root. Forty-nine percent of working adults are concerned that they could be laid off or unable to work due to COVID-19, according to a new AmeriSpeak® Spotlight on Personal Finance from NORC at the University of Chicago.
At the same time these workers are preparing for a potential loss of income, they report making extra emergency purchases to prepare for the outbreak. Nearly 60 percent of workers concerned about losing their job report purchasing extra goods, compared to 48 percent of workers who are not concerned about employment disruptions.
Those concerned about an employment disruption also spent more. Nearly 40 percent of concerned workers spent, or will spend, more than $200 on extra goods, while only 21 percent of less concerned workers spent that amount.
"Spending extra money for emergency COVID preparations can help vulnerable workers prepare for potential gaps in pay," said Angela Fontes, director of the Behavioral and Economic Analysis and Decision-Making (BEAD) team at NORC. "However, by spending money now, households that experience a gap in paychecks during the COVID-19 pandemic are at increased financial risk if they face any other unexpected costs, such as appliance repair or car problems."
In total, a majority (55 percent) of adults plan to purchase emergency goods—63 percent of them have already made purchases and the remaining 37 percent intend to do so. People were equally likely to be purchasing emergency goods, regardless of their income level.
"At a time when many people are concerned about their health and financial stability, the pressure to purchase extra food, cleaning supplies, and other goods creates an additional burden on households," said Mark Lush, manager in the BEAD team at NORC. "When people see empty shelves or images of customers with overflowing shopping carts, we know that people will be more likely to worry about what they stand to lose if they don't stock up."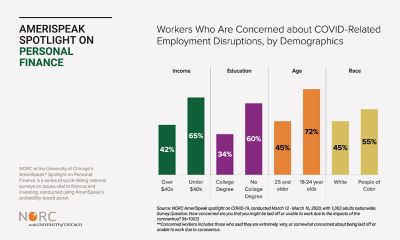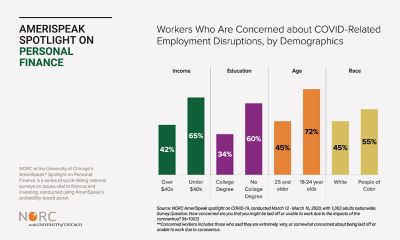 Younger people, those without the ability to work from home, and individuals with lower incomes are more concerned about a potential job loss during COVID-19.
Workers' concerns about their employment stability during the COVID-19 pandemic were closely tied to whether or not they are able to work from home. Only 27 percent of workers who are allowed to work from home were concerned about gaps in employment, whereas 62 percent of those who do not have this benefit were concerned. Only 1 in 3 workers indicate that they have work from home benefits.
Concern about employment disruptions also varied by demographic group, with younger people (18-24 years old), people of color, those without a college degree, and people earning less than $40,000 per year being more concerned about gaps in pay during the COVID crisis. These groups, who are more likely to be working part-time or hold service industry jobs, may be disproportionately impacted by the effects of the pandemic.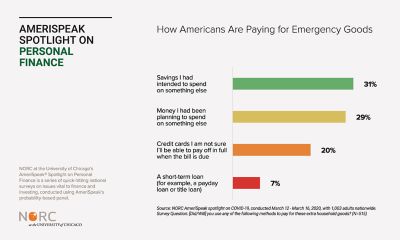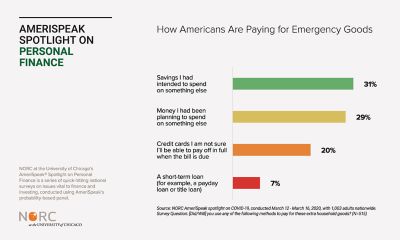 Twenty-seven percent of those stockpiling goods are going into debt to do so.
For some workers, stockpiling emergency goods requires them to tap into other financial reserves. Among those who have purchased or will purchase emergency goods, 31 percent said they used money they were saving for something else, like a car or other major purchase. Another 29 percent said they used money they planned to spend on something else, like paying other bills. Other workers relied on debt for the purchases, with 20 percent carrying balances on credit cards and 7 percent taking out a short-term loan (such as a payday or title loan).
"Spending extra money for emergency COVID preparations can help vulnerable workers prepare for potential gaps in pay."
Methodology
The nationwide poll was conducted March 12-16, 2020, using the AmeriSpeak® Panel, the probability-based panel of NORC at the University of Chicago. Online and telephone interviews using landlines and cell phones were conducted with 1,003 adults. The margin of sampling error is plus or minus 4.3 percentage points.
About the AmeriSpeak Spotlight on Personal Finance
NORC at the University of Chicago's AmeriSpeak® Spotlight on Personal Finance is a series of quick-hitting national surveys on issues vital to finance and investing, conducted using AmeriSpeak's probability-based panel.

About NORC at the University of Chicago
NORC at the University of Chicago conducts research and analysis that decision-makers trust. As a nonpartisan research organization and a pioneer in measuring and understanding the world, we have studied almost every aspect of the human experience and every major news event for more than eight decades. Today, we partner with government, corporate, and nonprofit clients around the world to provide the objectivity and expertise necessary to inform the critical decisions facing society.
Contact: For more information, please contact Eric Young at NORC at young-eric@norc.org or (703) 217-6814 (cell).
Departments, Centers & Programs
Solutions