Maryland COVID-19 Contact Tracing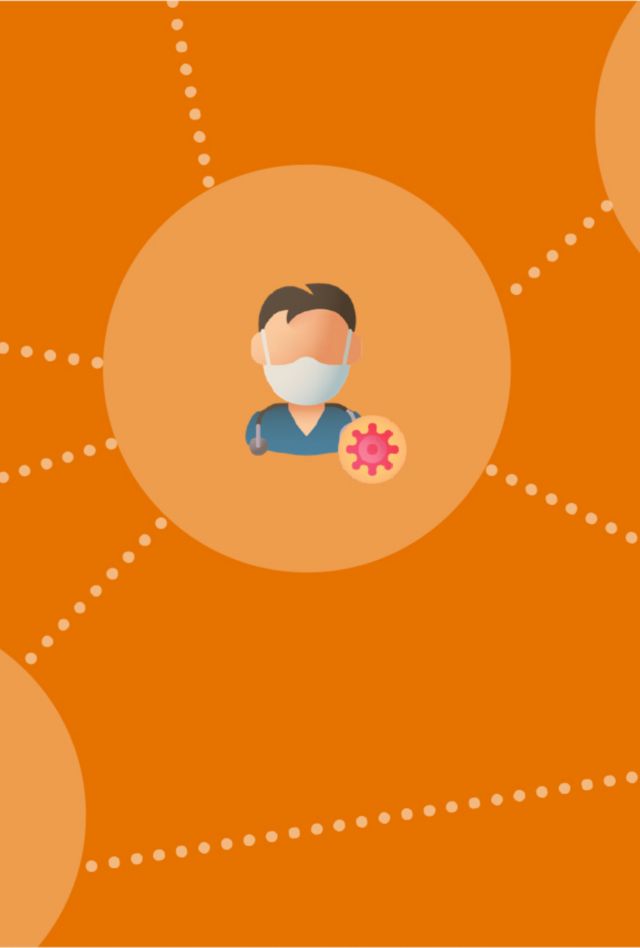 COVID-19 infected thousands of Marylanders in just a few weeks.           
In mid-March 2020, the United States was spiraling into a pandemic of the deadly respiratory virus, COVID-19. There was no vaccine to stop it and growing fear that unless public health officials took drastic actions to contain the spread, hospitals would be overrun with patients. In Maryland, Gov. Larry Hogan quickly closed schools and non-essential businesses, added hospital beds, and ramped up testing. He also recognized another crucial step was required: a large-scale contact tracing operation to warn people potentially exposed to the virus that they should self-quarantine. But no such operation existed, and like the overall response to the pandemic, launching this statewide program would require a combination of scientific knowledge, grit, and creativity.
NORC rapidly adapted its public health surveying skills to trace COVID-19 exposures.
States and municipalities have employed contact tracing for other infectious diseases, typically done by a few trained experts.  However, no one had needed to deploy it for a fast-spreading respiratory illness like COVID-19 before.  In this scenario, a large-scale, efficient, and well-managed calling operation was needed to reach thousands of Marylanders.  NORC was poised to step in and pivot its expertise conducting high-volume, interview-based health projects, such as the National Immunization Survey.
Everything about this emergency initiative tapped NORC's data collection and public health expertise: supporting the information technology system, writing scripts for phone calls that would inform but not frighten, training interviewers, and ensuring the enterprise worked as a whole. Contact tracers were tasked with reaching people who tested positive, learning the names and contact information of others with whom they may have been in close contact, and then notifying those interviewees of their need to self-quarantine. 
Maryland warned as many as 15,000 people a day of their infection risk.
Racing the pandemic's spread, NORC trained more than 1,400 contact tracers, who made calls to more than 15,000 calls a day.  With each call, Maryland's ability to contain COVID-19 grew.  Over 33 months, NORC contact tracers
Conducted almost 300,000 interviews
Made over 1.7 million outbound calls
Responded to over 150,000 inbound calls 
Have you been contacted for contact tracing?
Contacted about Maryland COVID-19 contact tracing? Experiencing technical difficulties? Contact us:
Related Tags
Departments, Centers & Programs
Research Divisions
Topics
Contact tracing is a public health disease control measure employed by health departments to control the spread of diseases that spread through contact with an infected individual. The State of Maryland invested in an expansion of their contact tracing program, as a way to control the spread of COVID-19.  The contract tracing efforts involve:
Contacting people who have tested positive for COVID-19 and sharing appropriate care and isolation information with them 
Interviewing these people to find out with whom they have had close contact while infected, which is an essential part of breaking the chain of infection.
Calling the contacts of the person who tested positive for COVID-19 and informing them of their potential exposure so they can take appropriate action to protect themselves and others. 
For more information on contact tracing during and the COVID-19 pandemic can be found at the CDC's website: https://www.cdc.gov/coronavirus/2019-ncov/php/principles-contact-tracing.html
​You can visit the Maryland Department of Health's coronavirus website (https://coronavirus.maryland.gov/) and you will notice that the information on contact tracing confirms that the caller ID will say "MD COVID." Our interviewers identify themselves by first name and last name.  They will not ask for any financial information or passwords.
Yes. Your information will only be shared with health department staff and persons involved in providing follow-up support.
If you have additional questions, you can:
call our contact tracing team directly at 240–466–4488 or 800-559-6410 
visit the Maryland Department of Health Website (health.Maryland.gov), or
reach out to your local health department (a list of local health departments can be found at [https://health.maryland.gov/Pages/departments.ASPX]).
Explore NORC Health Projects